DECEMBER 22, 2022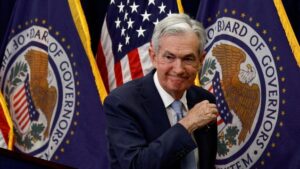 The Fed has let the "inflation gorilla" out of the cage, JPMorgan Asset Management portfolio manager William Eigen said.
Eigen warned that prices won't come down to the Fed's 2% target anytime soon, and the Fed will likely keep rates high.
Inflation is still running wild, and it isn't coming back down to the Fed's 2% target anytime soon, according to JPMorgan Asset Management portfolio manager William Eigen.
"The biggest mistake they've made was that they let the inflation gorilla out of the cage. And right now there's not enough bananas in the world to entice it back into the cage," Eigen said in a TV interview with Bloomberg on Wednesday, comparing the current era of high prices to the 1970s, when the US was going through a stagflationary crisis.
Inflation slowed to at 7.7% in November, but that's still well-above the Fed's long-run target. Some inflation indicators are still hot, such as the labor market, which could mean the Fed has more work to do in their battle to cool down the economy.
"It's not getting back down to 2% anytime soon," Eigen said.
Fed officials have signaled they will continue to keep interest rates high through 2023 to lower inflation, and hike rates to 5.1%. But rates that restrictive would likely lead to a recession, some market commentators say, with billionaire investor Ray Dalio warning rates at that level could cause a 20% drop in stocks.
That also means short-term securities are more attractive than long-term treasuries for now, Eigen said, as the Fed is unlikely to dial back rate hikes after mistaking inflation as "transitory" last year.
"Why would the Fed in tightening mode, and inflation over 7%, which we seem to be celebrating, would I buy a 10-year treasury at 3.5% and take eight years of duration risk, when I can get almost 5% on my cash? The only way that works is if the Fed immediately stops tightening very very soon, and immediately goes into easing mode. And I don't think [they will] after they've made the mistakes in the past," he added.
Eigen's concerns echo other economists', who have warned that inflation is still a danger despite cooling from a 41-year-high reached this summer. Soaring prices have hur the credibility of the Fed, top economist Mohamed El-Erian said, which means central bankers can't afford to give up the inflation fight too early. That could risk letting inflation expectations become unanchored, which would slam the economy with high unemployment, low growth, and stubbornly-high prices.
---